Alison Hill Posted on December 09 2021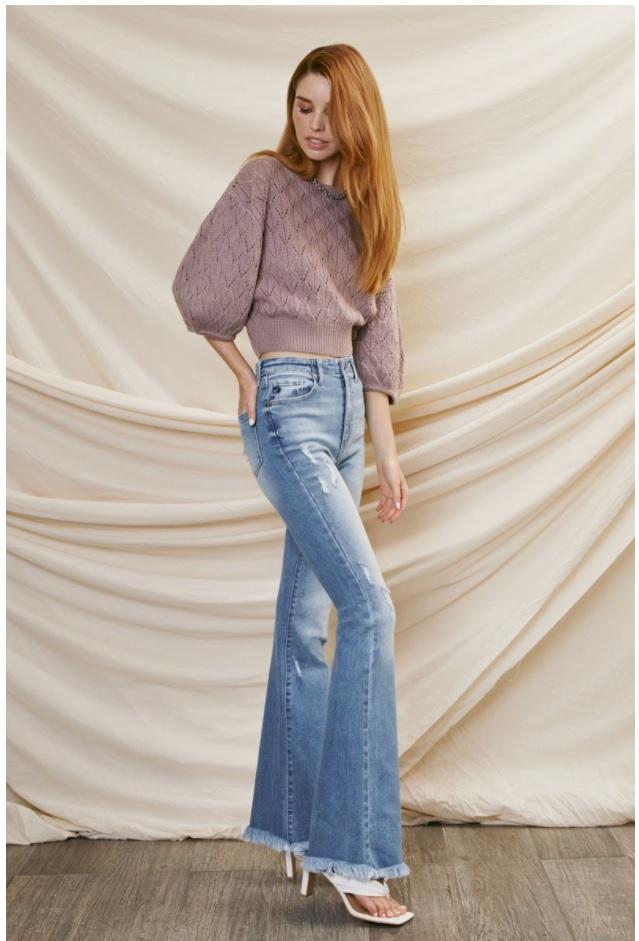 We all own a favorite pair of jeans, whether it's those go-to skinny pair that fit like a dream, or faded button fly boot cuts we just can't part with. But what exactly is in right now? And where are the trends heading next? Straight, Skinny, Flare, Bootcut, Ripped - even Mom Jeans?
The quick answer is…pretty much all our favorite styles are still fashionable (what a relief!) with a few subtle changes here and there, like front seams, high waists, and vintage silhouettes and washes. Ripped are here to stay as are distressed, and frayed hems are ultra cool.
At Glam Soldier, a vintage and Boho boutique in Downtown Apex, North Carolina, we stock new styles, old favorites and the tried and true. We love everything from flared to ripped and relaxed.
Let's Go Jeans Shopping!
Boot-cut Jeans
Boot-cut is still cool! – at one point we were getting worried that boot-cut was being pushed out by the skinny jean. But fear not, the old favorite is still hot. Boot cuts look great paired with pointy-heeled boots that peep out the front of the jean and they suit pretty much any body type.
Frayed Hems
This trend appeared a few years ago and has really taken hold in 2021, with all kinds of cute styles available. Frayed hems are the epitome of boho chic – a must-have for every Glam Soldier!
Ripped and Distressed
Who knew ripped and distressed had such staying power? This was not a fly by night trend, it's here to stay and there's so much variety it's hard to choose! And don't for one moment think ripped is a newish style - British 'model' Samantha Fox was rocking ripped back in the 80's. 
High-rise, Wide-leg
Long or short, wide leg jeans are not only stylish they're also super comfy, and with the added high-waist, what's not to love.
Skinny Jeans
We all love 'em and live in 'em, and the good news is they're here to stay despite what Gen Z said about them being out of fashion. At Glam Soldier, we set our own trends baby. High-waisted skinny jeans look good paired with a jacket, t-shirts, a plain white shirt, or a flowy blouse. Try pairing with this  gorgeous blazer (pictured).
Mom Jeans
Yes 'mom' jeans are back in fashion - high-waisted and straight legged. The new 'mom jeans' styles have the worn-in, grungy look that's trending right now. Mom Jeans got a bad rap in the media as does everything comfortable. But it was completely unwarranted (and a bit biased) as every mom knows that comfy is king. Like Alisha, our Glam Soldier Captain says: "if you ain't comfy, you ain't sexy." 
Flared and Frayed
The 70's are calling - but with super cute and flattering styles of flares, like these high waisted super flare jeans and this pair of high rise flares with frayed trim. 
Girlfriend and Boyfriend
Super comfy and relaxed, these styles suit all body types and tastes, and are a smart addition to your wardrobe. Check out this gorgeous pair of mid-rise, distressed girlfriend fit jeans with button fly.
The long and short of it!
Long jeans are a popular choice and suit just about anybody. They look great with heels and accentuate a lean, long look. And on the flip side, cropped is also in (you just can't go wrong with jeans styles right now!)
And then to complete the ensemble, pair your favorite jeans with cute tops like this sequined lace cami and top it all off with this gorgeous velvet blazer. 
Happy denim shopping!
The Glam Soldier Army is always on call to answer all your fashion questions. We're located at 114-C, North Salem Street in Downtown Apex, North Carolina. Veteran owned and women owned, there's always a welcome  in our 

little upstairs paradise, 25 steps up from street level. (919) - 267-6442.